About
2006 agency creation /  18 000 photographed smiles /  26 000 lighted candles / 50 diet coke per week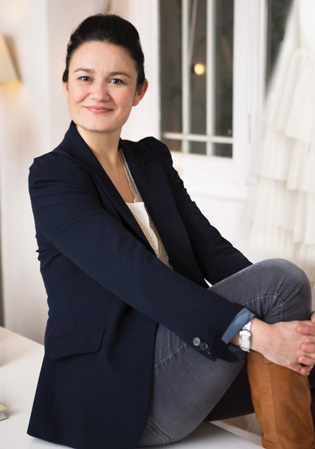 CAROLINE LE MOIGNE-HIREL
Founder – 44 years old
Caroline's assumed commitment: make pure refinement and elegance a signature. From the iconic and grand wedding to the discreet and intimate one, the esthetical universes conceived by her team are accolades to refined simplicity itself.  Resolutely positioned in tradition with luxury craftsmen, each agency's member cultivates a sharp detail-oriented mind and distinguishes himself by an acute sense of customer service.
Caroline appoints every team's member for his organizations skills and sense of esthetics, as well as for their shared values: respect, manners, curiosity, precision and love for work well done.
With its bespoke approach to event planning and design, the agency always calls upon its best talents through its numerous resources (both human and skills wise) to guarantee the seamless achievement of your majestic event.
Her advantages: Her glance is always thriving to exalt a venue, an emotion, a slice of life.  Also, her role as a mother feeds her to bring more soul to the event that you have entrusted her with. 
LAURA
Project Manager – 28 years old
Her international culture and her career in a New York wedding planning agency turned her into an Anglo-Saxon's clientele specialist in the agency. "I'm a Tête Chercheuse, what's your superpower?"
Her advantages: Her good mood, her smile and her heart-warming stress management.

ANAÏS
Designer – 34 years old
The bubbly Anais, an advertising graphic designer, creates the graphic identity of all our events while respecting the decorative bias of the project. She has the knack of twisting the classics !
Her advantages: Her creativity and her flexibility.

ANNE
Production director and stage-manager – 41 years old
The meticulous Anne doubles up her events skills developed through prestigious Parisian agencies with B to B dimension and branding.
Her advantages: her coherence concerns and her strong technical expertise.